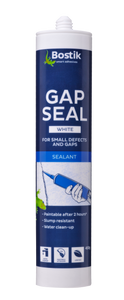 General purpose acrylic gap filler
Bostik Gap Seal is a general purpose, water based, acrylic gap filler, suitable for use on interior and exterior areas prior to painting. It offers excellent adhesion properties suitable for sealing gaps and low movement joints.

Recommended Uses
Bostik Gap Seal can be used on:
Skirting boards, architraves, plasterboard, window and door frames
For low movement joints, between light partition walls
Filling cracks in plaster, brickwork, concrete aluminum, wood and glass
Product Details
Excellent sealing and adhesion
Slump resistant
Skins within 15 minutes
Can be painted over after 2 hours*
Water clean up
Environmentally friendly
Low VOC
*PAINTABILITY

Bostik Gap Seal can be painted over with most types of paint. Depending on the gap size and weather conditions, it can be painted over after 2 hours for acrylic paint and about 2-3 days for oil based paint. In general, the larger the gap sizes, the longer the drying time.