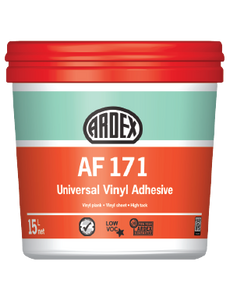 Indoor water based vinyl adhesive. 
Fast grab with very strong ultimate bond
Excellent dimensional stability
Excellent resistance to plasticiser migration
Floor Coverings:
Vinyl plank, Wall sheet vinyl, Sheet vinyl, Linoleum, Direct stick and double bond carpet installation, Acoustic mat
Substrates:
Hardboard underlayment board approved to AS2458
Cementitious underlayment
Dry concrete where there is less than 80% RH when tested with in situ probe test
Contact ARDEX Technical Services for other substrates including terrazzo, ceramic tiles and metal substrates.
Working Time:
Approximately 15-20 minutes
Set up Time:
Approximately 10-15 minutes
Coverage:
Using a 1.6×1.6×1.6mm V-Notch trowel approximately 5.0m2/L.
Colour:
Packaging:
15L pail containing 18kg of adhesive