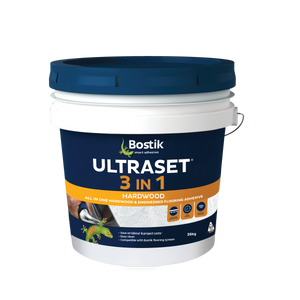 Adhesive, moisture control and sound reduction all in one
Bostik Ultraset® 3 in 1 is a high performance flooring adhesive, moisture control, and sound reduction membrane all in one. Bostik's breakthrough AXIOS® Tri-Linking™ Polymer Technology is used in this formulation, maintaining the superior long term durability, moisture control and sound abatement properties of high end urethane adhesives. 
Recommended Uses
Suitable substrates include: concrete, terrazzo, ceramic tiles, timber, plywood and cement backer board.
Adheres parquet, cork, solid strip softwood, hardwood flooring, engineered flooring and bamboo flooring.
Product Details
3 in 1 adhesive, moisture control and sound reduction membrane
Thickness Control™ Spacer Technology maintains the adhesive thickness between hardwood flooring and substrate
Extremely low moisture vapour permeability
Superior sound control typically outperforms 3mm rubber underlay
Anti-fracture performance can bridge cracks up to 3mm
Zero VOC (as calculated per SCAQMD Rule 1168)  No restriction on board width or length
Blockade® anti-microbial protection
Easy clean before and after cure
Long term durability and moisture control
Superior sound dampening performance