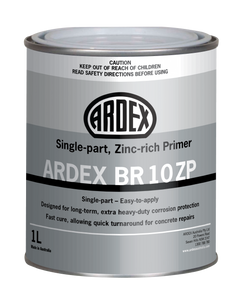 Zinc-rich, cold galvanising primer for long-term, extra heavy duty corrosion protection. Designed to prevent corrosion through galvanic protection by forming a protection barrier, encapsulating the metal in a zinc film. Ideal for use in highly corrosive environments such as coastal regions on all structural steelwork. ARDEX BR 10 ZP will react on ferrous metals to replace damaged surfaces and provide a protective barrier.
Substrates:
Recommended as a primer for structural steel tanks, bridges, cranes, wharfs and shore installations equipment in industrial and marine environments. For use on all structural steelwork. Dry film heat resistant to 2000º C.
Location:
Colours:
Coverage:
9m2

 

/L (Practical coverage depends on surface profile, method of application and dry film thickness. Higher film thickness leads to lower coverage.)
Drying Times:
Touch dry: 30 mins (at 25°C & RH 50%)
Recoat: 16 hours (at 25°C & RH 50%)
Cooler temperature, higher film thickness, and higher humidity conditions will require longer drying times.
Packaging: