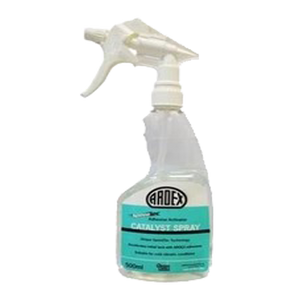 ARDEX Catalyst Spray with the use of Speedtec technology is a clear solution which when applied to nominated ARDEX Adhesives accelerates the tack time for quicker installation of floor coverings.
Typical Uses:

ARDEX Catalyst Spray is designed to increase initial tack for ARDEX Adhesives with ARDEX Speedtec – Technology. ARDEX Catalyst Spray also acts as an innate film formation for ARDEX WPM 179 – Single Component Rubber Membrane.
Location:
Internal and external floors and walls
Installation:
With the spray bottle spray a fine mist evenly across the adhesive to one side only; as soon this is complete install the following floor coverings to the treated adhesive.
Packaging: