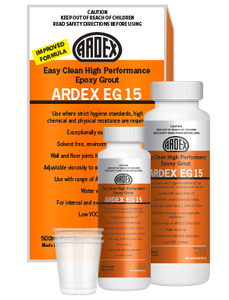 ARDEX EG 15 is a high performance epoxy grout designed for situations that require strict standards of hygiene, high chemical and physical resistance. ARDEX EG 15 is exceptionally easy to clean up during application. It can be used in joints up to 15mm wide on walls and floors.
Tile Types:
All ceramic tiles, porcelain, natural stone
(Porous, moisture sensitive and textured tiles may require special application procedures)
Location:
Internal and external*
Swimming and hydrotherapy pools
(*Epoxy grouts are prone to chalking when used externally but performance is not affected)
Surfaces:
Joint Width:
Colours:
Pack Size:
1L Part A + 500mL Part B + ARDEX Colour Pack 5kg Part C
Ardex Epoxy Grout (EG 15) Colour Chart can be found here.