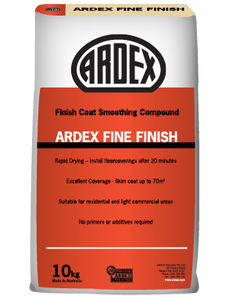 ARDEX Fine Finish is a cement based smoothing compound designed to provide a smooth, permanent finish to a variety of internal substrates prior to the installation of floorcoverings such as vinyl, carpet and ceramic tile. It is suitable for residential and commercial applications only.
Floor Coverings:
Linoleum, vinyl, carpet
Ceramic and quarry tiles
Floating timber
Substrates:
New and existing concrete
Terrazzo, quarry and ceramic tiles
Timber floors
Existing vinyl floors
Head to our Flooring Technical Bulletins page for more information on different flooring system solutions and applications.
Location:
Internal above grade application
Thickness:
Coverage:
Drying Times:
Ready for floor coverings from 20 minutes
Packaging: