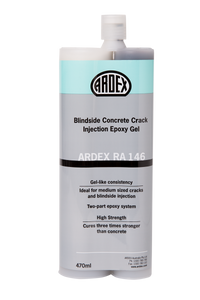 Blindside Concrete Crack Injection Epoxy Gel
Structural crack repair of medium to large cracks
Pressure injection for cracks from 6mm to 10mm
100% solids, solvent free system with low VOC content
Thixotropic structural epoxy adhesive system with a gel-like consistency ideal for repair of medium size cracks (6 – 10mm) when using an injection port system. A thixotropic gel is multi-viscous and flows like a liquid while under pressure and will cease flowing when no pressure is being applied. It is a high strength epoxy system perfect for blind-side crack repair of most substrates. It will bond the structure back to its original monolithic strength. ARDEX RA 146 can be used to repair vertical cracks when using injection ports in conjunction with a capping paste (ARDEX RA 88). Its bonding and sealing capabilities for interior and exterior slabs are exceptional.
Substrates:
Almost any material including:
Nozzles sold separately.
Location:
Working Time:
Drying & Curing:
ARDEX RA 146 is fully cured in 24 hours
Colours:
Packaging: