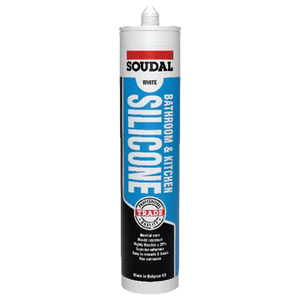 For all sealing, waterproofing and bonding applications where protection against mould and mildew is required. Offers strong adhesion to glass, tile, ceramics, aluminium, metals (including powder-coated & anodised), painted surfaces, fibreglass, stainless steel. For best performance clean non-porous surfaces with Soudal Cleaner & Degreaser.
Features & Benefits
Neutral cure
Mould resistant
Highly flexible ± 25%
Superior adhesion
Easy to smooth & finish
Non corrosive
Applications
A quality, flexible, neutral cure silicone suitable for a wide range of applications including – sealing baths, sinks, toilets, showers, tiles, plumbing fixtures, glass, tiles, etc.