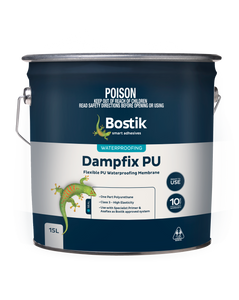 Polyurethane waterproofing membrane system
Bostik Dampfix PU is a one component, highly elastic, class 3, polyurethane waterproofing membrane system that contains no bitumen and complies with AS/NZ 4858. It is specially formulated for applications where the waterproofing membrane is to be covered by tiling systems laid on an un-bonded reinforced screed to falls (ref: Guide to the Installation of Ceramic Tiles - AS3958.1)
Recommended Uses
This is a 2-coat system applied over primed porous & non-porous substrates such as concrete, cement rendered masonry, FC sheeting, plasterboard, and structural plywood. It can be used with internal wet area showers, bathrooms, kitchens, laundries and toilet areas. It is not recommended as a membrane system in immersed areas (such as pools or spas).
The Bostik Dampfix PU system consists of:
Bostik Moisture Seal as the substrate primer
Bostik Seal N Flex FC as the bond breaker
Two coats of Dampfix PU applied perpendicular to each other following instructions in the most recent TDS
Before tiling over Dampfix PU, apply a coating of Bostik Specialist Primer and then adhere tiles with Asaflex, two-part tile adhesive
Finish your tiling masterpiece with the Bostik Design Epoxy two-part grout to really leaving a long lasting perfect impression
This system can be used for waterproofing wet areas, just in the shower or a full bathroom solution under tiles.
Product Details
Provides a tough elastomeric waterproofing membrane when fully cured
Minimum dry film thickness achievable in 2 coats
Will not bleed through porous materials such as marble, natural stone and slate tiles
Reaches sufficient cure in 72 hours allowing for fast placement of mortar beds and screeds
All applications must be covered by tile or other protective wear system