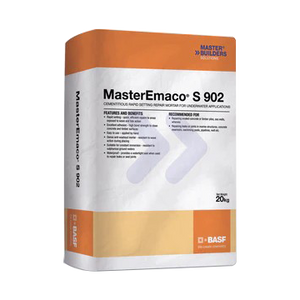 Rapid-setting Repair Mortar for Underwater Applications
MasterEmaco S 902 is a ready to use, fast setting, cement-based marine mortar.

Recommended uses:
Repairing eroded concrete or timber piles, sea walls, wharves
Repairing leaks or joints in marine structures, concrete reservoirs, swimming pools, pipelines, well etc.

What are the unique features of MasterEmaco S 902?
MasterEmaco 902 has been specifically developed for underwater repair and restoration work.

What are the benefits of MasterEmaco S 902?
Rapid setting - quick, efficient repairs to areas exposed to wave and tide action
Excellent adhesion - high bond strength to clean concrete and timber surfaces
Easy to use – applied by hand
Dense anti wash out mortar - resistant to wave action during placing
Suitable for constant immersion - resistant to sulphurous ground waters
Waterproof - provides a watertight seal when used to repair leaks or seal joints