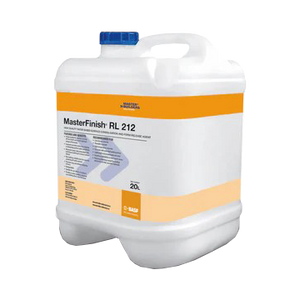 High-quality Surface-consolidating Form Release Agent

How does MasterFinish RL 212 work?
MasterFinish RL 212 is a ready-to-use, water based, non-toxic surface consolidation agent with excellent form release properties.
Recommended uses:
 Application to all types of formwork including wood, metal, polyester or plywood where a good surface finish and optimum release are required.
MasterFinish RL 212 is not recommended for use on rubber lined forms and where rapid de-shuttering of forms (e.g. block making) is practised.
What makes MasterFinish RL 212 a unique solution?
It has been specially formulated to reduce or eliminate surface imperfections in precast, prestressed and poured-in-place concrete, and to give easy and complete release of concrete when applied to most types of forms or form liners.

What are the benefits of MasterFinish RL 212?
Unique product to improve concrete off-form finish and ensure optimum release of formwork
Improved concrete surface by reducing or eliminating surface voids and defects
Minimises repair costs associated with patching or polishing to remove surface defects
Improved surface quality often leads to better prices for finished product
Non-staining, suitable even for concrete containing off-white cement
Promotes easy and efficient stripping of forms
Reduces the need for and cost of frequently cleaning forms by reducing the concrete residue
Easy and inexpensive to apply by spray
Milky appearance means increased coverage by reducing overlapping applications
Better and safer working environment
Non-toxic, being made from "skin friendly" ester oils
Biodegradable
Suitable for use indoors or outdoors
Provides a water repellent, rainproof, rust-inhibiting film to the formwork