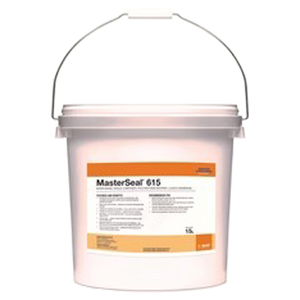 Water-based, Single-component, Class III Membrane
MasterSeal 615 is a fibre enhanced one component water based polyurethane membrane that has been designed for a range of waterproofing applications where the membrane is to be covered over with tiles, screeds, concrete beds etc.

Recommended uses:
General internal wet areas under tiles including bathrooms, shower alcoves, laundries, change rooms, etc
External/internal light foot traffic areas under tiles such as: podiums, terraces, balconies and deck areas
Sandwich seal between existing and new substrate, eg old to new concrete; cement screeds over concrete and CFC surfaces
Waterproofing applications requiring high vapour barrier
What makes MasterSeal 615 a unique solution?
Based on unique polyurethane technology, MasterSeal 615, provides a user friendly one component membrane that achieves good film build, with reinforced and elastomeric properties once the membrane is dried.
MasterSeal 615 offers excellent adhesion properties over building substrates including concrete, masonry, renders, cement sheeting, wet area sheet surfaces and plasterboard surfaces.
What are the benefits of MasterSeal 615?
Excellent low water vapour transmission properties and is fully compatible with polymer modified cement based tile adhesives, screeds and renders
Able to move with structure - elastomeric and flexible with good tensile strength
Suitable for constantly wet conditions - once cured will not re-emulsify
Unaffected by bathroom chemicals - excellent chemical resistance
Fast drying - can be recoated just after 2 hours and serviceable after 24hrs @ 23ºC
Orange colour – makes in site QA simpler by clearly showing coated and uncoated areas
Matched reinforced corner tapes MasterSeal 970,960&950) - save time and cost, by eliminating need for corner sealants and mortar cants
High viscosity thixotropic liquid - applicable for both horizontal and vertical surfaces (walls & floors)