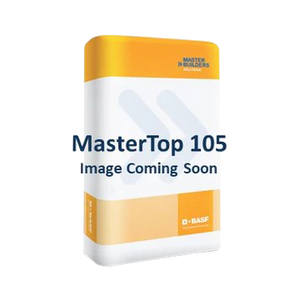 Durable Non-Slip Dry Shake Surface Hardener

MasterTop 105 is a non-metallic floor hardener, which contains silicon carbide and other specially graded aggregates. It is applied as a dry shake over freshly floated concrete to provide a durable, non-slip monolithic floor.
Recommended uses:
Factories, workshops, showrooms, food and beverage processing areas, where a durable, non-rusting, non-slip floor is required to withstand moderate to heavy traffic
Providing a durable, non-slip surface on ramps, stairs, landings etc. under wet or dry conditions
Freezers & chillers with forklift traffic
MasterTop 105 is not recommended for use in areas where floor surface will be exposed to acids, their salts or materials which seriously and rapidly attack concrete.  For applications under these service conditions consult BASF about their range of chemical resistant flooring systems, such as Ucrete.
What are the unique features of MasterTop 105?
MasterTop 105 provides high abrasion and impact resistance giving the floor a long service life.
What are the benefits of MasterTop 105?
High abrasion and impact resistance – long service life
Better abrasion resistance than plain concrete – extended service life
Non-rusting – suitable for wet environments
Non-slip – improved safety for personnel and forklifts in wet or cold environments.
Dense surface – resists oil and grease penetration
Non-skid micro surface texture– suitable for use in freezers where ice can create slip hazards
Easy application at time of placing concrete – floor available for full service once concrete is cured