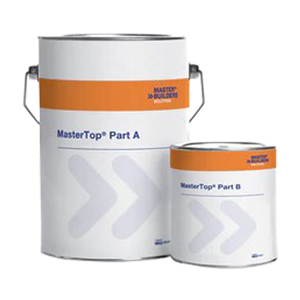 MasterTop 1205 - Two component solvent free high build epoxy floor coating

MasterTop 1205 is a pigmented, solvent-free, high build epoxy floor coating system designed to offer seamless durable floor protection at applied thickness' between 0.2 to 0.50mm. With the addition of MasterTop SR 3 (slip resistant aggregates) between coats, anti-slip resistant applications can be achieved in system build-up thicknesses between 0.50 to 2.0mm.
MasterTop 1205 is designed for use MasterTop 1205 exhibits excellent wear, abrasion and chemical resistance and is suitable for use in a wide variety of industrial and commercial applications. It can be used to provide a surface coating with a high gloss hygienic finish or a slip resistant coating system.
What is MasterTop 1205 used for?
MasterTop 1205 provides impermeable protection against common oils, greases, lubricants, aviation fuels and hydraulic oils such as Skydrol. As in all corrosive situations, a full analysis of operating and exposure conditions is required, followed by reference to chemical resistance data to ensure product suitability.
MasterTop 1205 can be used extensively in but is not limited to the following areas of application:
Chemical manufacturing plants.
Pharmaceutical and other medical facilities.
Car production and showroom facilities.
Aircraft hangers and maintenance areas.
Warehouses with high density traffic.
Food and beverage production areas.
Vehicle movement areas.
What are the benefits of MasterTop 1205?
MasterTop 1205 offer the following advantages:
Excellent wear and abrasion resistance.
Superior chemical resistance.
Smooth high gloss finish for hygienic applications.
Slip resistant finish in trafficable applications.
Easy application by brush, roller or squeegee.
Available in standard colours and with colour matching or RAL / BS colours depending on quantity required​.