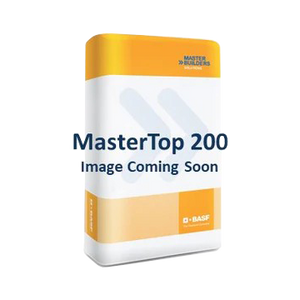 Iron-Armoured Industrial Dry-shake Surface Hardener
MasterTop 200 is an iron-armoured, dry-shake surface hardener for industrial floors needing additional abrasion resistance and impact protection.  It is designed to be applied over freshly floated concrete to provide an iron armoured monolithic floor.
Recommended uses:
Industrial installations needing extra abrasion resistance and impact armouring
Distribution warehouses
Mine facilities
Aircraft hangers
Power stations
Loading bays
Workshops
Industrial floor surfaces subject to heavy or frequent traffic, steel wheels, AGV's, fork lifts.

Do not use in areas where floor surfaces will be exposed to acids, their salts, or like materials, which seriously and rapidly attack cement and/or iron. Alternate solutions such as Ucrete are suitable for this application.
What makes MasterTop 200 a unique solution?
MasterTop 200 contains specially processed iron aggregate in a cementitious binder which increases abrasion resistance up to 8 times greater than plain concrete as well as offering much greater compacted density – increasing resistance to penetration by oil, grease, hydraulic fluids, ethylene glycol and many industrial chemicals.
What are the benefits of MasterTop 200?
Increased surface density – allows easier and less expensive maintenance because absorption of water and cleaning agents is reduced.
Finished from smooth to slip resistant – iron aggregate makes this product a virtually non-dusting surface hardener that may be finished to meet any requirement.
100% iron aggregate - from special processing for strength.
Available in an energy saving version – light reflective formulation can reduce the number and intensity of the lighting needed in a warehouse.
Economic and fast application – reduced construction time floor surface applied at the time of concrete placement.