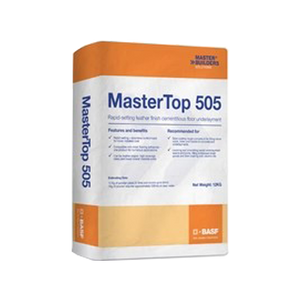 Rapid-setting Feather-finish Cementitious Floor Underlayment
MasterTop 505 is used to finish and smooth a variety of surfaces including concrete, underlayments, wood, residential vinyl, ceramic/quarry tiles, terrazzo and adhesives.  Combined with water, it mixes to a creamy smooth consistency for ease of application.  MasterTop 505 is a rapid setting, aggregate-free, polymer modified cement-based finishing underlayment.

Recommended uses:
Skim coating and smoothing rough concrete
For filling minor voids, holes and cracks in concrete and underlayments
Levelling and smoothing wood underlayment seams and joints
Levelling and filling embossed sheet goods
Skim coating over ceramic tile
Skim coating over adhesive residue or membranes that are thin, well bonded, structurally sound and non-water soluble
What are the unique features of MasterTop 505?
MasterTop 505 is a cost effective means to level floors and create a smooth finish.
What are the benefits of MasterTop 505?
Rapid setting – downtime is minimised for lower installed cost
Compatible with most flooring adhesives – one product for numerous applications
Can be feather-edged – high coverage rates yield lower overall material costs
No priming – extra steps and time are eliminated
One-component polymer modified – only water is needed for mixing