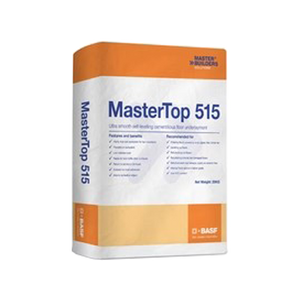 Ultra-smooth Self-levelling Cementitious Floor Underlayment
MasterTop 515 is an ultra-smooth, self-levelling, cementitious, non-structural, floor underlayment intended for use over poured in situ and precast concrete floors which will be covered by carpet, vinyl, ceramic tiles, natural stone or timber.
Recommended uses:
Finishing rough screeded floor
Levelling up floors
Refurbishing old floors
Resurfacing internal rain damaged floors
Internal floors above or below grade
Not suitable for external wearing surface
What makes MasterTop 515 unique solution?
MasterTop 515 has been specifically formulated to achieve a fast setting, level and flat surface with maximum available flow time.  Only water needs to be added at the job site to obtain the desired consistency for pumping or manual installation.
What are the benefits of MasterTop 515?
Highly fluid and pumpable - fast installation
Rapid strength gain - next day installation of floor covering
Low installed cost - economical for large areas
Resistant to cracking - long-term stability of the floor
Ready for foot traffic after 3-4 hours - minimises time for restriction to floor surface
Compatible with most carpet and tile adhesives - no restriction of use
Able to be feather-edged - complete levelling of floor