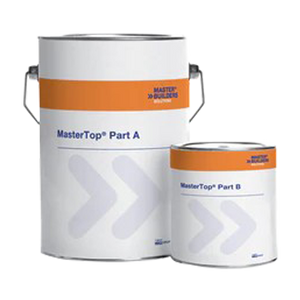 Clear UV resistant solventless epoxy coating for concrete
MasterTop TC 450 is a solventless, high gloss, low viscosity epoxy coating designed for application as a clear hard wearing surface primarily over ground concrete or vinyl flake flooring.
Recommended uses:
Wear resistant finish to concrete
Workshops
Warehouse
What makes MasterTop TC 450 a unique solution?
MasterTop TC 450 is a new technology being UV resistant.  It protects underlying epoxies from yellowing from UV exposure through glass.
What are the benefits of MasterTop TC 450?
Mild odour - suitable for indoor use
Resistant to mild acids/alkalis
Easy application - by roller or squeegee with excellent surface wetting characteristics
Long life - good mar resistance and resistance to mild alkalis and acids