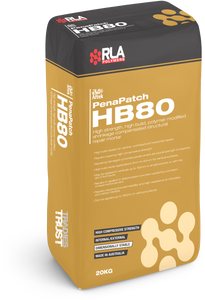 High Build, High Strength Polymer modified Structural Repair Mortar Grout.
Penapatch Structural HB80 is a high strength; high build shrinkage compensated structural repair mortar.
Structural HB80 is designed to be used for vertical or horizontal applications. Structural HB80 has high, ultimate compressive strength and high abrasion resistance. The specially selected cements and polymers contained in Structural HB80 provide a mortar with strong adhesion to concrete and masonry on vertical and horizontal substrates with negligible shrinkage. Structural HB80 requires the addition of water only.
RECOMMENDED USES
•    High build repairs for vertical, overhead and horizontal repairs
•    Repairs requiring high compressive strength
•    Repairing damaged concrete panels where structural strength is required
•    High build repair applications 5mm to 80mm for vertical surfaces
•    May be applied in verticals up to 160mm in small pockets or with the aid of formwork
•    Repairs to spalled or deteriorated concrete caused by corrosion of steel reinforcement
•    Repairs requiring low permeability and high resistance to chlorides and carbon dioxide
•    Can be applied up to 180mm in horizontal surfaces
FEATURES AND BENEFITS
•    High ultimate compressive strength
•    High build repairs achievable in a single application
•    Low permeability providing protection from chloride attack and carbonation
•    High strength and high abrasion resistance
•    Dimensionally stable
•    Excellent workability
•    Shrinkage compensated allowing for long term dimensional stability
•    Eliminates the need for formwork
•    Shrinkage compensated
•    Can be applied by dry or wet process, achieving high build with exceptional compaction and enhanced performance
•    May be coated with Aftek range of protective coatings
•    Exceptional bond strength to concrete substrates
•    Internal or external applications
•    Pre-bagged eliminates any on-site mixing variation
•    Easy to use- simply add water and mix