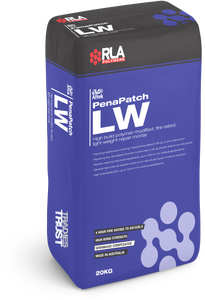 High Build Polymer Modified Fire rated, Light Weight Repair Mortar.
Penapatch Panel LW is a fine filled  fire rated , polymer modified, cementitious mortar, specifically formulated to provide cover for joiner plates in tilt slab or pre-cast construction. Panel LW is also used for repair of damaged concrete. The light weight aggregates used in Panel LW allow for a build up to 100mm in one application. The specially selected cements and polymers contained in Panel LW provide a mortar with strong adhesion to concrete and masonry on vertical substrates with negligible shrinkage. Panel Patch LW requires the addition of water only. Panel LW may be sanded to produce a smooth surface texture prior to painting or application of a render.
RECOMMENDED USES  
•    Patching repairs and covering metal joining plates in tilt up or pre-cast panel
•    Repairing any damaged concrete or pre-cast or tilt up panels that is non-structural
•    Repairs requiring high build application up to 100mm for vertical applications
•    General high build up repairs where a non-structural repair mortar is required.
FEATURES AND BENEFITS
•    High build application up to 100mm for vertical applications
•    Good adhesion to substrates, high bond strength
•    High build repairs can be completed in one application
•    Eliminates the need for formwork
•    Shrinkage compensated resulting in long term dimensional stability
•    Excellent workability
•    May be coated with the Aftek range of protective and decorative coatings
•    Fast drying
•    Finishes off to a smooth surface
•    Easy to use- just add water
•    Australian made
•    Fire rated
•    4 hour fire rating to AS1530.4