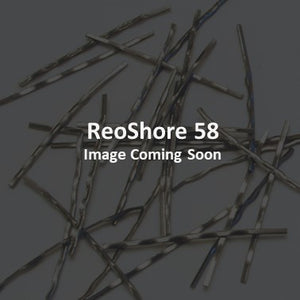 High Aspect-ratio, Structural Polypropylene Fibre
Reoshore 58 is a high aspect ratio, structural polypropylene fibre specifically designed for all shotcrete applications. High performance polypropylene fibres are used throughout the world in mining and tunneling projects. Reoshore 58 is designed to provide excellent resistance to rupture forces thereby enhancing strata stability. Reoshore 58 provides an economical, low dose solution for mining and tunneling. This fibre provides value to end users by adding toughness and increasing flexural strength to the shotcrete tunnel lining. Reoshore 58 conforms to ASTM C 1116-03, 4.1.3 type III Synthetic Fiber-Reinforced Concrete or Shotcrete. This fibre can be used for concrete reinforcing and crack control in all shotcrete applications.
Properties
Reoshore 58 is produced from low-melt flow virgin polypropylene. The unique surface design provides an anchorage system which mechanically locks the fibre into the concrete matrix. This system ensures that the fibre absorbs maximum energy without breakage. The fibre is designed to retains its cross sectional shape and therefore avoid brittle concrete failure in high load situations. Reoshore 58 has an aspect ratio (length/equivalent diameter) of 58. This high aspect ratio provides superior performance and toughness for any shotcrete application. The individual fibre count, per kilogram of Reoshore 58 is approximately 20,350 fibres.