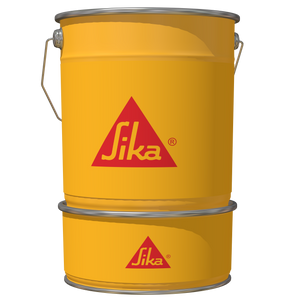 Thixotropic Epoxy Resin Repair Mortar
 High strength, epoxy resin patching mortar:
Suitable for use as a repair or patching mortar in concrete, cement and stone
Approved for contact with potable water
Insensitive to moisture during application, cure or service, shrink free and chemical resistant
40kg Kit part A, B & C components available to purchase separately. 
USE
Sikadur® 41 may be used as a repair or patching mortar for many mineral substrates including concrete, cement mortar and stone. The ease of application and tolerance of site conditions ensures the product can be used to repair or restore profiles on pre-cast or cast in situ concrete elements as well as a general void filler for both vertical and overhead work. Suitable also as an abrasion and impact resistant coating.
CHARACTERISTICS AND ADVANTAGES
Insensitive to moisture during application, cure or whilst in service
Bonds to damp concrete
Applicable at low temperatures
Available in two grades (Normal and Long Potlife)
High abrasion and impact resistant
High early strength
Approved for contact with potable water
High tensile and flexural strength
Supplied in factory proportioned units
Easily applied
Resistant to dilute acid, alkalis and most oils etc.
Proven in service
Shrink free
Two components of different colours enabling visual control of degree of mixing