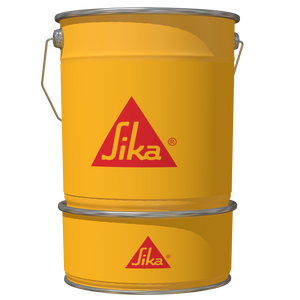 Very High-flow, Cost-effective Epoxy Resin
Sikadur-42 HF is a pourable, multi-functional high density epoxy grout based on a 2-component solvent free epoxy resin system containing fine fillers. Sikadur-42 HF exhibits excellent flow characteristics in general grouting applications.
Two-component kit comprises of:
Part A (16kg) 
Part B (2kg) 
Components available for purchase separately. 
USE
As a grout for manufacturing plants and civil engineering application:
Crane rails
Machine bedding and baseplates
Holding down bolts
Stanchions
Starter bars
Cavity filling
Bridge bearings
CHARACTERISTICS AND ADVANTAGES
Cost effective epoxy grout
Applicable at low temperatures.
High mechanical strengths.
High flow characteristics
Supplied in factory proportioned units.
Shrink free.
Can be bulked out with aggregate of thicker pour applications
Excellent chemical resistance to water, sea water, waste water, sewage, fuels, oils, dilute acids and dilute alkalis.