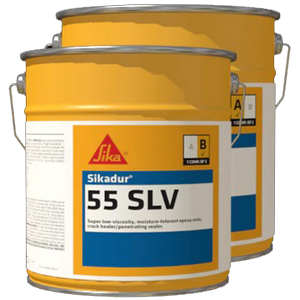 Super Low-viscosity Crack Healer/Penetrating Sealer
Sikadur®-55 SLV is a 2-component, 100 % solids, moisture-tolerant, epoxy crack healer / penetrating sealer, having a fast tack-free time to minimize downtime. It is a super low-viscosity, high-strength adhesive formulated specifically for sealing both dry and damp, existing, non-dynamic cracks.
Usage
Sikadur®-55 SLV seals cracked concrete.
For interior slabs and exterior above-grade slabs.
For elevated horizontal decks, parking garages and other structures exposed to foot and pneumatic tire traffic.
Advantages
Super low viscosity/low surface tension for excellent penetration into existing cracks.
Seals existing cracks by gravity down to 2 mils (0.002" / 0.05 mm) in width.
Prolongs life of cracked concrete.
Penetrates and seals surface from water absorption, chloride-ion intrusion, and chemical attack (patent pending technology).
Improves concrete surface by reducing water and chloride intrusion.
Can be open to traffic in 6 hours at 73 °F (23 °C).
High bond strength, even in damp cracks.