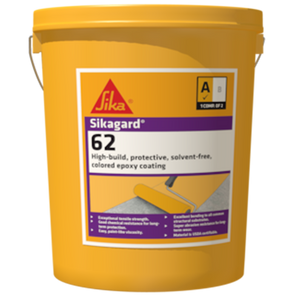 2-Component Epoxy Protective Coating/Lining System
Sikagard®-62 is a two part, rigid, 100 % solids, coloured high build epoxy resin based protective coating with high resistance to abrasion and chemical attack.
Solvent free
Good mechanical and chemical resistance
High build
Part B - 3kg of 11.4kg kit available for purchase separately. 
Note: 11.4kg of 12kg kit - unpigmented
Usage
Chemical resistant protective layer on concrete, stone, cementitious mortars and renderings, epoxy cement, epoxy resin based products and steel
Lining in storage tanks and silos
Anti-corrosion for chemical bunded areas, food and beverage processing plants, sewage works, water retaining structures, chemical and pharmaceutical facilities.
Advantages
Solvent free
Good mechanical and chemical resistance
High build
Impervious to liquids
Easy to mix and to apply