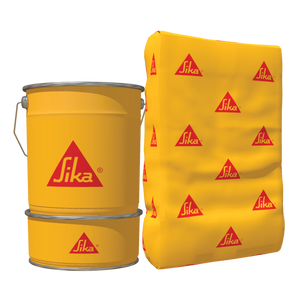 3-Component Micro Mortar for Surface Sealing
Sikagard®-720 EpoCem® is a three part, epoxy modified cementitious, thixotropic, fine textured mortar for levelling and finishing of concrete, mortar or stone surfaces.
Improved chemical resistance compared to PCC mortar
Excellent protection of concrete in aggressive environments
CE marked in accordance with EN 1504 parts 2 and 3
The 3-components of the 20.75kg kit are available for purchase separately.  
Usage
As a levelling layer over concrete and mortars in 0.5–3 mm on vertical or horizontal surfaces.
Application in new works or damaged concrete, in aggressive chemical environments
Application over high moisture content substrates, even green concrete
As a Temporary Moisture Barrier (TMB) (min. 2 mm thick) allowing the application of Epoxy, Polyurethane and PMMA* resin coatings requiring dry substrates, for a lasting solution.
As a pore sealer for the reprofiling, smoothing and levelling of concrete surfaces
Suitable for moisture control (Principle 2, method 2.3 of EN 1504-9)
Suitable for restoration work (Principle 3, method 3.1 and 3.3 of EN 1504-9).
Suitable for physical resistance (Principle 5, method 5.1 of EN 1504-9)
Suitable for preserving or restoring passivity (Principle 7, method 7.1 and 7.2 of EN 1504-9)
Suitable for increasing resistivity (Principle 8, method 8.3 of EN 1504-9)
Suitable as a low cover concrete solution.
* See Notes on Application / Limitations  
Advantages
Improved chemical resistance compared to PCC mortar
Excellent protection of concrete in aggressive environments
CE marked in accordance with EN 1504 parts 2 and 3
Impervious to liquids but permeable to water vapour
Excellent bond to green or hardened concrete whether damp or dry
Fast overcoating of Sika® resin based finish products
Ideal preparation for smooth surface finishes
For internal or external use
Contains no solvents
Can be applied by hand or mechanically