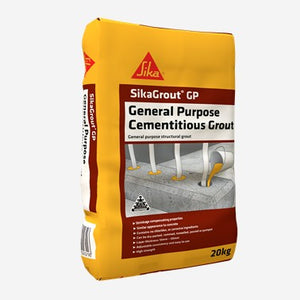 General Purpose Class-A Pumpable Grout
SikaGrout® GP is a pumpable, shrinkage-compensated, flowable cementitious "Class A" grout with extended working time to suit local ambient temperatures.
Uses

SikaGrout® GP is a general purpose grout suitable for the following applications:
General purpose grouting
Grouting works for machine foundations, anchor bolts etc. 
Precast and dry packed grouting
Filling of cavities, gaps, recesses, etc.
For precision grouting, SikaGrout®-212HP is recommended.
Characteristics & Advantages

Easy to mix and apply
Flowable consistency (according to mix)
Trowel applied and ramming
Rapid strength development
Non-corrosive
Non-toxic
Iron and chloride free
Shrinkage-compensated
Good pumping properties