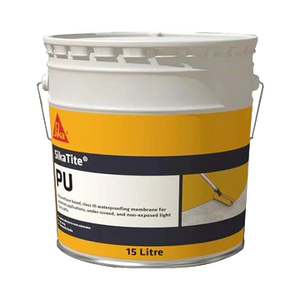 SikaTite® PU is a fast curing, single component, class 3 waterproofing membrane.
Polyurethane waterproofing membrane for protected applications, under-screed, and non-exposed light foot traffic
Characteristics & Advantages

 Excellent adhesion to most substrates
 Fast curing
 Permanently flexible
 Class III (according to AS3740)
Usage

Protected waterproofing for use under screeds and protected application. Suitable for use on most building substrates including; concrete, render, screeds, wet area wall sheets, fibre cement sheets, brick and MDF.